The divisive presidency ofDonald Trumpextends even to thewinesection.
Virginia Wegmans stores carryfive types of Trump wine, including Trump blanc de blanc and Trump Winery sauvignon blanc. They wont be going anywhere soon unless sales slow, Natale said.
How a product performs is our single measure for what stays on our shelves and what goes, she told HuffPost in a statement. Individual shoppers who feel strongly about an issue can demonstrate their convictions by refusing to buy a product. When enough people do the same… we stop selling that product in favor of one thats in greater demand.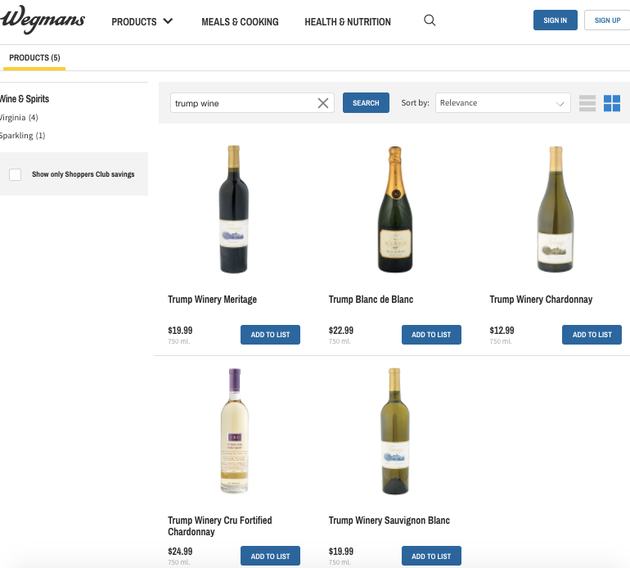 The Post reports the boycott was organized at a weekend meeting of the Prince William County (Virginia) chapter of the National Organization for Women.But Hala Ayala, the chapter president who moderated the meeting, told HuffPost a boycott was never formally discussed in any shape or form, noting its against the groups bylaws to boycott a store.Wegmans is also identified in the list of Trump business partners compiled by organizers of the nationwide #grabyourwallet boycott movement;Ayala said she assumes an informal discussion about Wegmans must have occurred among members of the crowd. Steve Aman, a customer who expressed his disapproval on the Wegmans Facebook page, told The Huffington Post became aware of the issue after seeing similar posts on Facebook.
Nevertheless, NOWs national president told the Post she wouldnt be grabbing groceries at the chain.
Certainly if Wegmans is carrying Trump wines, I personally will not shop there, said Terry ONeill, who was not at the meeting.
Wegmans joins retailers like Nordstorm,T.J. Maxxand Under Armourthat have been targeted for their business ties to the Trump family.While its doubtful this regional boycott will reach Uber levels, its certainly one more sign many shoppers dont want their money benefitting the controversial commander-in-chief.
Read more: http://www.huffingtonpost.com/entry/wegmans-trump-wine_us_58a3a66ae4b03df370db943c?dyb4t5akhcymbo6r&ncid=inblnkushpmg00000009