Eat OffBeat, a NYC-based catering company that hires refugee chefs from all over the world, is working on a cookbook to put its most treasured recipes into print. And the refugee chefs are writing the book.
The book probably wont be in print until next year, but the cookbook which is currently in its fundraising stageswill contain 80 recipes and stories representing at least 20 chefs hailing from 15 different countries such as Syria, Iraq and Nepal. And itll share insider tips some passed down from generations on how to use new ingredients with which you may be unfamiliar.
Eat OffBeat isnt just a catering companyit aims to rewrite the refugee narrative. Hearing it from the chefs mouths, its evident how this food business is changing the lives of the refugees themselves.
Take chef Dhuha, for example, who is from Iraq and can be seen featured in the video above. When I first came to the U.S. life was difficult, she says. I didnt know English. I had to take care of my two kids. I didnt know how to use the subway… then I meet Manal. Manal Kahi, co-founder and CEO of Eat-Offbeat, not only trained Dhuha as a professional chef but has given her the opportunity to help write a cookbook.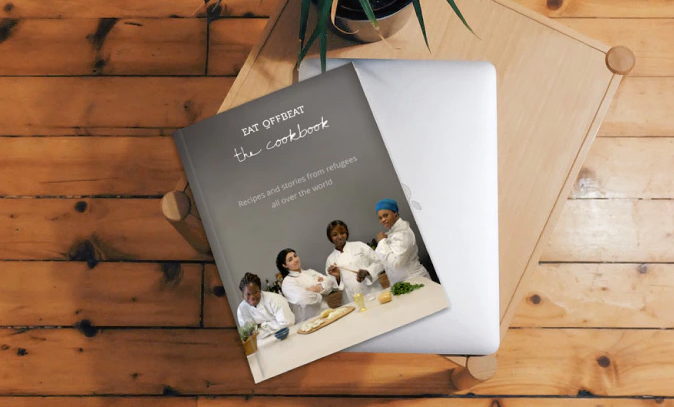 By supporting this book, Kahi says youre not only helping us publishing this unprecedented cookbook thats really rewritten the narrative of refugees, youre also helping these professional chefs bring their talents and their stories to the world. And youre helping the world take a stroll of the beaten path and into all these far-reaching cuisines.
Ten percent of the books proceeds will be donated to International Rescue Committee, an organization that aids people whose lives have been affected by conflict. The remaining profits will be invested in expanding Eat OffBeat by training more chefs, which means hiring more refugees.
Read more: http://www.huffingtonpost.com/entry/refugee-cookbook_us_58c7ecbfe4b0598c6699a5c0?wa2qzml8apzumcxr&section=us_taste&ncid=inblnkushpmg00000009