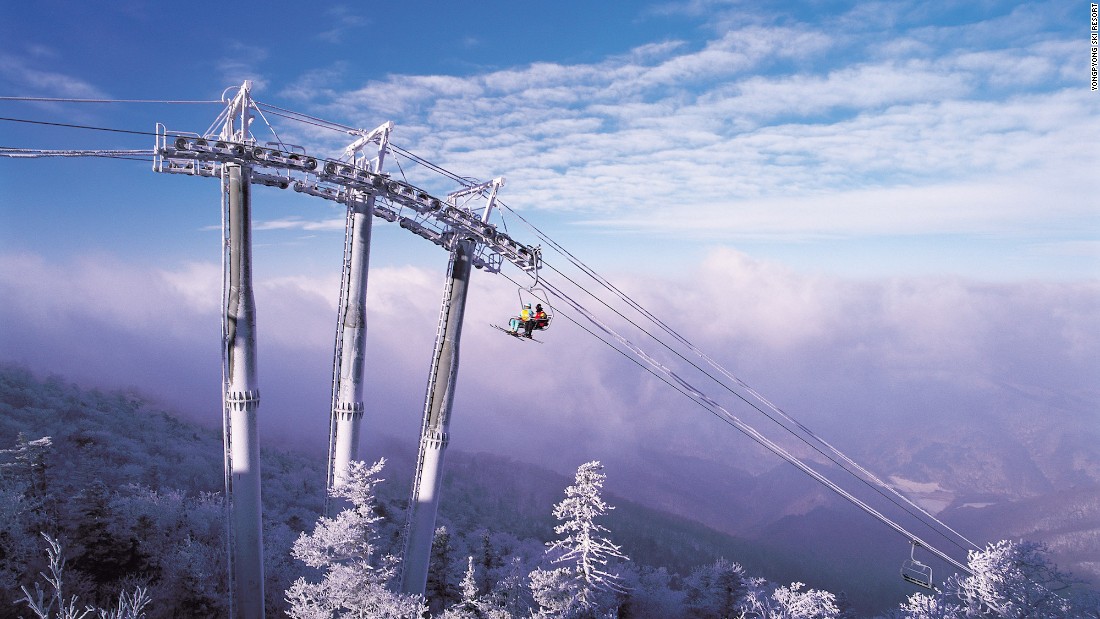 PYEONGCHANG, South Korea (CNN)Korean hip-hop music blasts from the speakers as snowboarders, decked out in neon from head to toe, cruise by on a slope as busy and bustling as a street in downtown Seoul.
It's midnight. The slopes are still open and the music's still blaring.
This is skiing South Korean-style: fast, furious and full of energy.
In a year's time, Pyeongchang, a little-known mountain region in eastern South Korea, will become host to the world's biggest winter sports stage:
the Olympic Games.
But will the crowds come?
South Korea is mountainous but doesn't have the stunning, jagged peaks of the Alps or volcanoes blanketed in 15 meters of snow like Hokkaido.
It doesn't have the rollicking, raucous mid-mountain huts of Austria where skiers pass around bottles of schnapps, or log-cabin lodges with crackling fires where skiers sip glasses of vin chaud or gluehwein.
It's Hokkaido-lite, with a splash of K-pop.
Ready to hit the slopes?
Here's how to ski like a local in Pyeongchang, South Korea (not to be confused with Pyongyang, North Korea, which has its own ski resort).
A monk's feast
By this point, you're probably starving.
Pyeongchang, frankly, does not have the glitz or glamor of Aspen or Courchevel.
Despite the construction going up for the Olympics, Pyeongchang remains a country town. Restaurants close early, and there's no nightlife.
But there are hidden culinary surprises in Pyeongchang if you know where to look.
Gangwon Province is known for its mountain vegetables, or sanchae, and is dotted with rustic restaurants such as Odae Sanchae Nara, where the tables groan from the weight of dozens — yes, dozens — of small plates featuring roots and greens preserved and presented in different ways.
Platters of potato pancakes round out the meal, all paired with the local makgeolli, or rice wine.
Originally built in the year 643, this Buddhist temple is breathtaking in winter and is a popular stop for meditative retreats.
Legend has it the temple has been rebuilt several times, most recently after South Korean troops torched it to smoke out North Korean rebels suspected of hiding inside during the 1950-53 Korean War.
Odae Sanchae Nara;159 Jingogae-ro, Ganpyeong-ri, Jinbu-myeon, Pyeongchang-gun, Gangwon Province; +82-33-334-9514; open daily, 8:30 a.m. – 8 p.m.
Where's the beef?
If you eat meat, do like the locals: Pick up packets of Gangwon Province's famous hanwoo beef, up there in tenderness with Wagyu beef from Japan.
There are several "hanwoo towns" in Pyeongchang with self-service grills next door.
Buy your favorite cuts and for a few thousand won (a few extra dollars), you can grill it up right there, with all the kimchi and fixings your hungry heart desires.
Or bring the beef back to the condo and eat the way Koreans do: sitting cross-legged on the heated floor while playing
drinking games
with somaek, a mashup of the Korean words for beer and soju.
Convenience stores have everything you need for a Korean BBQ: disposable chopsticks, microwaveable rice and small containers of the spicy, earthy ssamjang sauce that gives barbecued beef the kick that makes it Korean. And of course, beer and soju.
The only way to finish this Korean night off properly — if you haven't already keeled over from all the snow, steam and soju — is to sing.
Karaoke in private rooms called noraebang is a typical way to end any night out in South Korea. And without much nightlife at Pyeongchang, this is where the private party happens.
After you've let out your inner K-pop star, you can stumble back to your condo, lay out your mattress and let the heated
ondol
floors lull you to sleep.
This is skiing, South Korean-style.
Read more: http://www.cnn.com/2017/02/08/travel/skiing-south-korea-pyeongchang/index.html